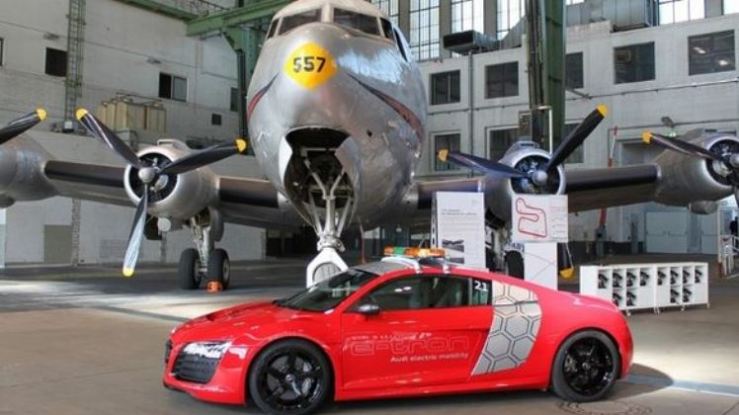 AUDI R8 E-TRON, ELECTRIFYING
Breathtaking, yet out of reach for you and me
Berlin, Germany; the electric trend doesn't always rhyme with performance and emotionalism. Exotic car enthusiasts will tell you that the power and sound of the engine are the most important criteria. However, there is one that could very well destroy this perception. Our test of the electric R8 took our breath away. The Ingolstadt manufacturer had organized an ecological day on the site of the former Tempelhof airport in the heart of Berlin. This impressive building, which was closed on October 30, 2008, has long been considered the largest complex in the world. It is still one of the greatest with the Pentagon and the presidential palace in Bucharest.
This day was intended as a research and development update on green engines. Audi is still very active in this regard. Journalists on site, divided into small groups, participated in activities organized into five sections. The management wanted to introduce the plug-in A3 e-tron, the all-electric A1 e-tron, the A3 g-tron - which combines gasoline and natural gas, the R18 that will take part in the 24 Hours of Le Mans again this year and finally, the also all-electric R8 e-tron. It is the latter that holds our attention.
♦
Click here
to continue reading.
Date Posted: July 10, 2013