# Audi Ups the Ante for the Driverless Car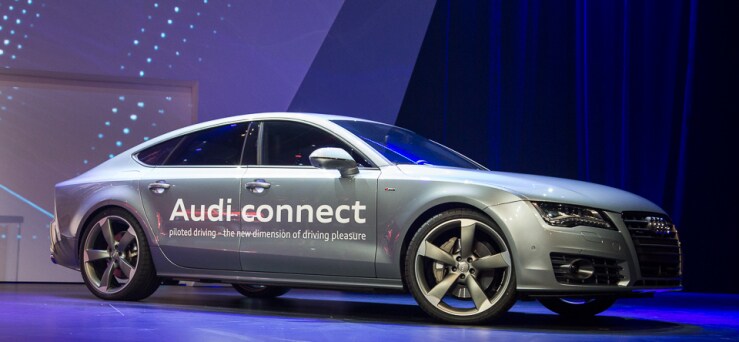 Letting go has never felt as good as it does in Audi's self-piloting cars. Audi's interpretation of this fantastically futuristic technology was demonstrated at the latest Consumer Electronic Show, where audiences were wowed by the self-starting and driving A7.
A call from a prototype smartphone app ignited the car from its parking spot, pulling up at the Las Vegas Mandarin Oriental Hotel all on its own. The automatic steering and navigation is powered by a Light Detection and Ranging (LIDAR) technology, which utilizes rapidly rotating laser beams to detect nearby routes, barriers, and obstacles to 'draw' a map of its surroundings.  This results in seamless maneuvering even around the narrowest of alleyways, traffic, or parking spots: a definitely plus for urban driving. Much to their delight, selected guests were privy to a 'driverless' drive around the town, including a 40 mph sojourn on a highway.  Always at the forefront of design, Audi has developed its own iteration of LIDAR that mounts to the A7's grille, avoiding any interruptions to the car's silhouette.
Though the technology's there, production wouldn't be happening for at least another decade or so thanks to legislation. But remain on the lookout!
See it for yourself!